Community Meetings About Rebuilding Potrero Yard
By Adrienne Heim

Potrero Yard Modernization Project - Upcoming Community Conversations

Conceptual design sketch of Potrero Yard at Mariposa and Hampshire streets.
This has been an unprecedented year for so many families, small businesses and the SFMTA. We are working to move San Franciscans around the city safely and quickly during the pandemic. At the same time, the SFMTA faces tough choices with immense revenue losses caused by the pandemic.
The Potrero Yard Modernization Project is essential to providing Muni service for some of our busiest bus routes like the 14 Mission, 22 Fillmore, and 30 Stockton, among others. This 105-year-old trolley bus facility does not meet modern seismic safety and maintenance standards and urgently needs to be rebuilt to continue to be able to support Muni service. The Potrero Yard Modernization Project will make the yard seismically stable and better able to support Muni operations, maintenance and cleaning and would ensure that staff is able to safely and effectively conduct their jobs. The project will be hosting two virtual community conversations about the long-overdue renovations needed for this bus yard. On December 5 and 12 from 11 a.m. to noon, we will have two virtual community conversations to provide a brief overview of the project and go into an in-depth discussion about recent project milestones.
We hope you can join us!
• English-language Meeting: Saturday, December 5 from 11 a.m. to 12 p.m.
• Spanish-language Meeting: Saturday, December 12 from 11 a.m. to 12 p.m.
For meeting details visit SFMTA.com/PotreroYard. If you're unable to attend our upcoming meetings, take a virtual tour of Potrero Yard by visiting SFMTA.com/PotreroYardTour.
The Project Concept
The proposed project improvements offer solutions to ensure we can maintain our fleet of buses as efficiently as possible, accommodate new buses that will be delivered in the next six years, enhance resilience to climate change and natural disasters like earthquakes and ensure that our staff is able to perform their work in a safe and efficient way.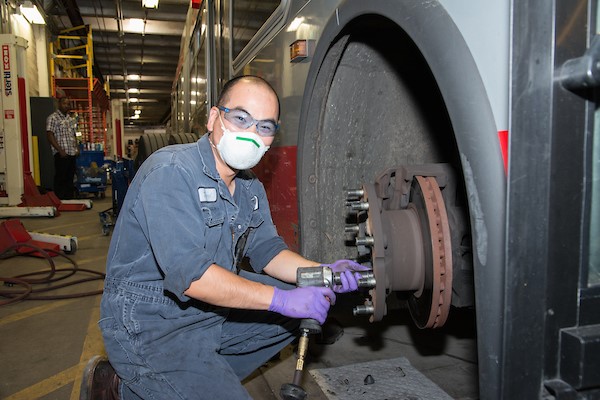 Potrero maintenance staff replacing a bus tire.
To support transit needs, the project proposes to build a three-level bus facility designed for ground-floor activities on Bryant and possibly 17th streets. The project also provides an opportunity to address local housing needs, through mixed-income housing proposed on top of the yard, something that has never been done before on an active bus yard in the United States. The total facility would be up to 150-feet in height.
The new building would also include:
Up to 575 residential rental units with a 50% minimum target for affordable housing

Infrastructure for all battery-electric buses

Centralized, modern space for Muni operator training

Centralized location for Street Operations, Muni's "first responders"

Built to an elevated structural and seismic standard

LEED Gold Certification
Project Milestones
Since November 2019, we have been working with the Planning Department on the environmental review process, referred to as CEQA, that will analyze potential environmental impacts and identify strategies for mitigating those impacts.

At the same time, we've begun the developer selection process to procure a joint development partner to design, build and finance the project, as well as to maintain the common portions of the building. This August, we distributed the Request for Qualifications (RFQ) and we're now working on the Request for Proposals (RFP) draft which requires the top three qualifying development teams from the RFQ to produce a project that includes community values and priorities laid out in the RFP document. We plan to release the RFP in early January 2021.

Learn more about the project and subscribe to project updates by visiting www.sfmta.com/PotreroYard.

Take our Request for Proposals (RFP) Survey at SFMTA.com/PotreroYardSurvey to inform the RFP with your priorities for neighborhood uses and housing at the site.

For more information, please email PotreroYard@sfmta.com or call us at 415.646.2223.



Published December 03, 2020 at 03:05AM
https://ift.tt/2VxZoEQ